Litters & Homes Wanted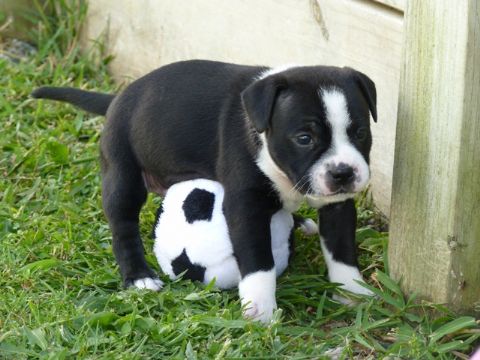 "Bayard"
Aldoushire Asstastic, a pup from our very first litter, residing in Australia with his best friend Lauren
Here at Aldoushire we carefully plan our litters, we are looking to improve the breed not to produce certain colours or for "waiting lists", our puppies come from health tested dogs and we are active in the show ring.

If you would like to add an Aldoushire puppy to your household feel free to email us with details about your housing situation and family.
---
3 May 2021
"Aldoushire Join The Dot"
~ Dotti ~
Current picture to come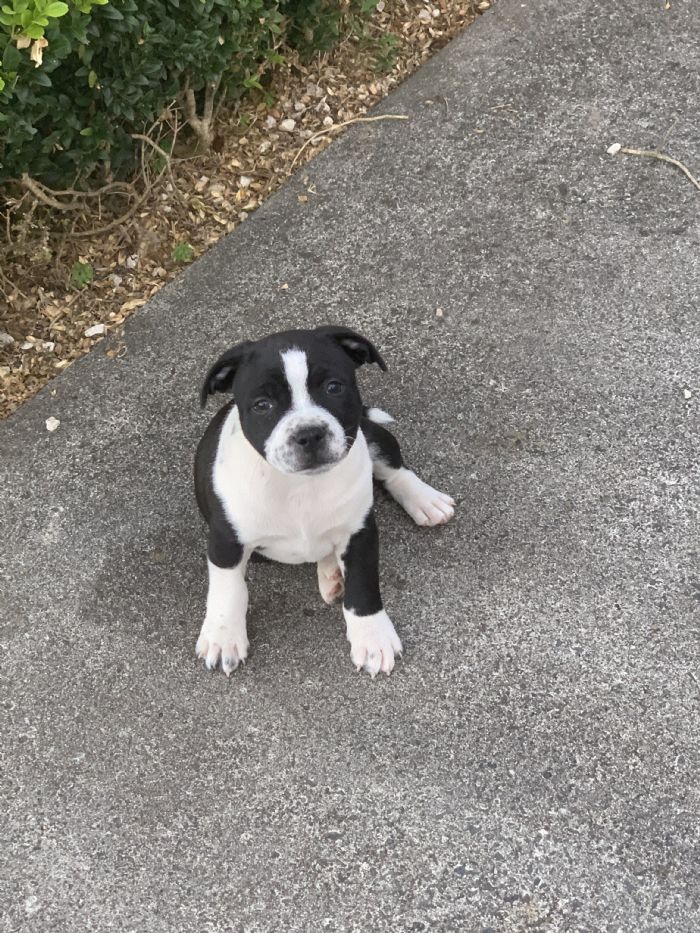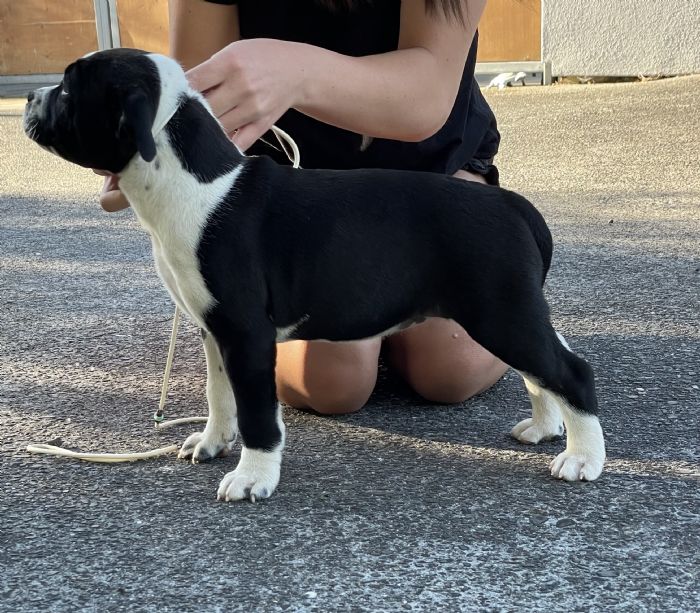 Above Pictures Taken:
24/1/2021 & 1/2/2021
We are looking for a special home for Dotti.
Dotti is 5 months old whelped 28 November 2020.
If you are after a Stafford with a super waggy tail and sometimes a bit of a chatterbox - Dotti may be for you.
She is DNZ registered, de-sexed & council registered.
Dotti is crate trained but will need a bit of time spent with her for house training and lead walking.
If you think you may be the right fit for Dotti please send us an email with information on your family and living situation and also a contact phone number.
We will be looking for someone that preferably owns their own home with a fully fenced section and has time to spend with her.
We will need to meet you in person as well if your home is right for her and will discuss pricing with you as well.
~ Dotti's parents can be viewed online through the below links ~
Sire:
https://www.dogzonline.com.au/breeds/profile.asp?dog=65997
Dam:
https://www.dogzonline.co.nz/breeds/profile.asp?dog=101655
---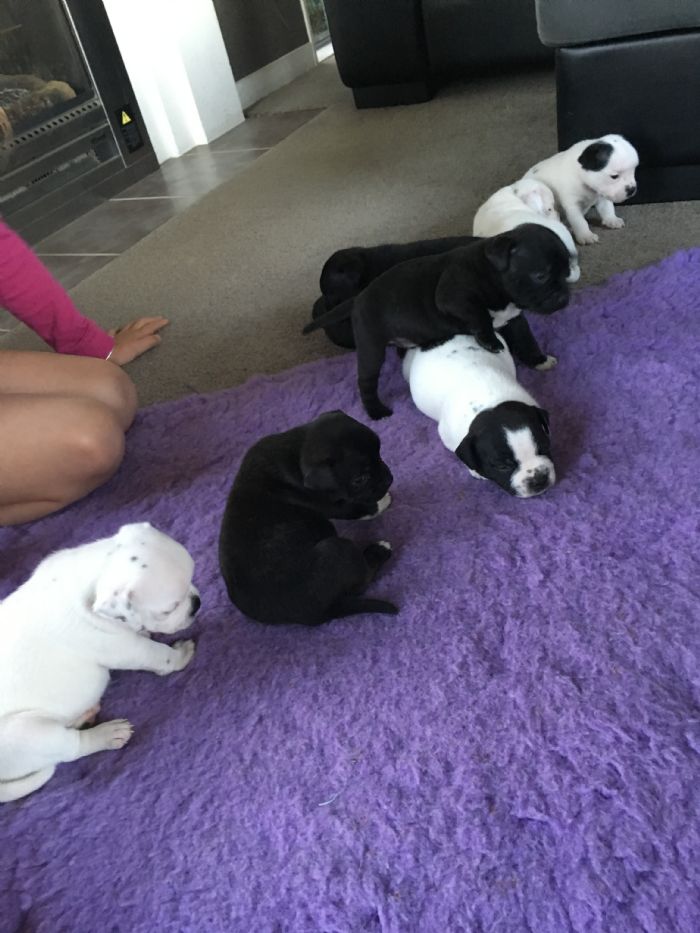 ~ Picture of our litter December 2015 ~
---
Puppy Buying Tips
The average price for a DNZ REGISTERED puppy is around $2000-$3000
Colour and sex DO NOT determine the price of the puppy. There is no such thing as a rare colour. Acceptable colours in the breed include red, fawn, white, black or blue, or any of these colours with white. Any shade of brindle or any shade of brindle with white. Black & tan or liver colour are highly undesirable. Although liver and black & tan are unsuitable for showing and breeding, they still make wonderful pets.
Both parents must be DNZ registered and able to be bred from - ie if the breeder is not offering a DNZ registered puppy they may not have bought their dogs with the opportunity to breed from them.
The breeder must also be a financial member of DNZ and have a DNZ approved breeders prefix (eg: kennel name).
When purchasing your puppy, make sure you receive the puppy's DNZ papers, this can take a few weeks from when you pick up your puppy from your breeder but if you are buying a DNZ registered pup the breeder must get the papers sent to you by DNZ.
Look for plump, bright eyed, active puppies in clean surroundings.
Make sure the puppies have been fully wormed and vaccinated and that they are at least 8 weeks of age before leaving for their new homes.
Should DNZ papers not be provided at the time of picking up your puppy, ensure you receive a receipt for "pure bred DNZ registered Staffordshire Bull Terrier". The receipt should include the sellers full name, contact details and DNZ membership number.
Remember that there are a lot of people out there trying to make money by breeding dogs. These people don't put the welfare of the puppies first and foremost. You want to find a responsible breeder that puts a lot of time and effort into raising their puppies. You will be more likely to get yourself a healthier, more well adjusted puppy if you look for a responsible breeder. This will however take time and patience.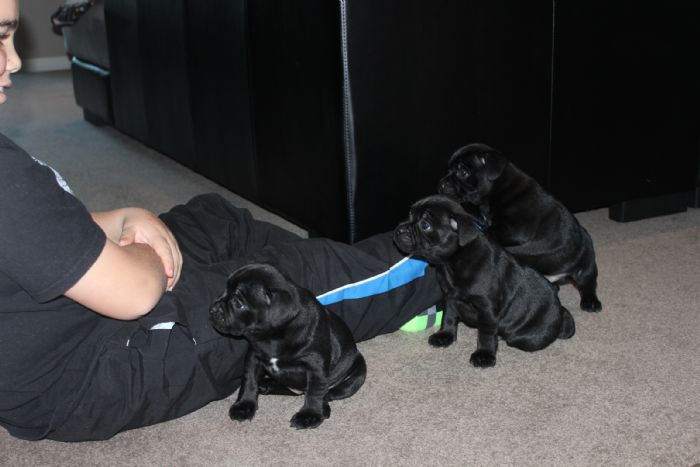 3 pups from Belle & Vadar
We like the best for our babies so please don't be offended if we ask a lot of questions
Contact Details
Contact Details:
Shannon & Paul Aldous
Waikato, New Zealand
Email:
aldoushire@icloud.com