About Us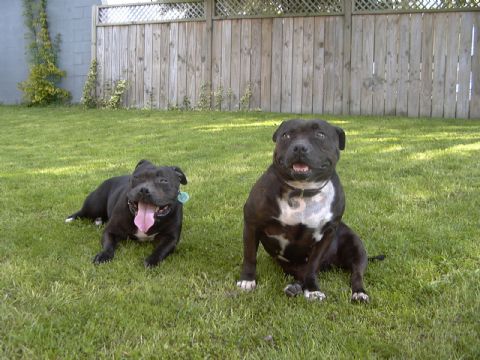 Photo Of:
Angel (Kafstaff Awesome Angel) & Mesha (Kafstaff Awesome Mesha)
~ Hello & Welcome To Our Website ~
To introduce ourselves we are Shannon & Paul Aldous, we live in the Waikato region in New Zealand and have two children Dylan (18) & Kayla (14)
Our first introduction to the Staffordshire Bull Terrier was when we purchased two litter sisters in 1998 and we were hooked from there. Unfortunately we lost Mesha in September 2004 and Angel in March 2009 they were never bred from but are forever in our hearts.
In 2006 we purchased our first show Stafford "Jett" (Aust/NZ Ch Warfare Last Of The Mohician), he was definately a great start to showing.
In 2008 we were lucky enough to have the opportunity to love & show "Zanda" (Aust/NZ Ch Tykabul Mr Boombastic), who came from our good friend and mentor Karen Horley of "Pepstaff" prefix, and also bought our first Boston Terrier "Daisy" (NZ Ch Balgarvie Copperhead Road) from Heather Ireland of "Balgarvie" prefix, she was a character and fitted into the household with ease, Daisy was not really one for the show ring and retired after gaining her championship title.
2009 saw us finally register our kennel name with the NZKC we have been lucky enough to gain some fantastic bloodlines from both Australia "Dixie" (NZ Ch Pepstaff Makem Cry (Imp Aust) & the United Kingdom "Belle" (NZ Ch Valglo Belle Of The Ball (Imp UK), our two Stafford girls are the foundation for our breeding programme and now at nearly twelve years of age - they are happy lounging in the sun on the farm.
Crikit our second Boston Terrier (NZ Ch Balgarvie Spot The Party) joined our household in September 2009 she began showing in late October and certainly strutted her stuff!!
2010 was a wonderful year, we welcomed Henry (RUBIS Aust/NZ Ch Shkiri Don't Ask (Imp Aust) to our household to be shown and part of our breeding programme, he did us proud in the time he was with us, gaining his NZ Champion title and a Runner Up Best In Show at All Breeds level, thanks to Kellie & Glenn Laws for entrusting Henry to us while in NZ.
2014 saw us add another Stafford "Rayden" (Usherin Bound For Glory (Imp Aust), Rayden lives with my brother now and is a loved family member.
2015 was an exciting year for us as we have the lovely Farrah (Ch Aldoushire Fairest Of Th Ball) doing well in the show ring and also Dita (Ch Aldoushire Burlesque Babe) still showing herself off and gaining a Best In Show at the Hawkes Bay Terrier Club at four years of age.
At the end of 2016 Farrah had been awarded three Best In Show Specialty's ~ we pride ourselves on breeding our Staffords to suit both All Breeds & Specialty shows but our main focus is staying true to our breed standard. In April 2017 at the inaugural Mainland Staffordshire Bull Terrier Society Farrah was awarded her fourth Best In Show Specialty ~ another proud moment for us.
On the 12th of November 2017 at Wairarapa Shows Farrah gained her 50th Challenge Certificate which made her eligible for her Specialist Grand Champion Title, we are very PROUD to say we have bred/loved & shown the first Staffordhshire Bull Terrier in New Zealand to be awarded this title.
We have been given amazing opportunities and gained some wonderful life long friends within our chosen breeds and look forward to continuing our success' in and out of the show ring, please view the rest of our website to see all that is going on at 'Aldoushire'
Our Staffords are L2-HGA & HC Clear and are eye tested by the Auckland Animal Eye Centre
I am currently a member of the Mainland Staffordshire Bull Terrier Society & Northern Staffordshire Bull Terrier Club (past Secretary for the Club) and also Committee Member of Huntly & District Kennel Association. I am also in my second term as Secretary for the Waikato Branch Show Judges Association.
In 2019 I was appointed to the Open Show Judges Panel and look foward to this journey & working towards my Terrier Group Licence.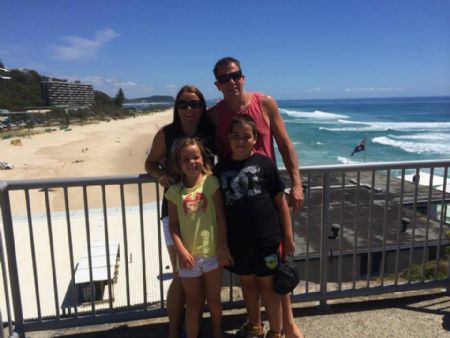 Thank You For Visiting & Please Enjoy Our Site
Contact Details
Contact Details:
Shannon & Paul Aldous
Waikato, New Zealand
Email:
aldoushire@icloud.com